More Information about Itabashi City
Information around the conference center
ODF'14 is approaching next week! This time we would like to introduce Conference Center and the recommended spots.
Conference Center"Itabashi Culture Center"
ODF'14 is held in the Itabashi Culture Center. It is 3 minutes walk from Oyama Sta. of Tobu-Tojo Line.
Please note the following things when you use Tobu-Tojo Line.
Only local trains stop at Oyama.
Platform No. is 3 or 4 for local trains at Ikebukuro Station.
Oyama Sta. is 3rd stop from Ikebukuro Sta.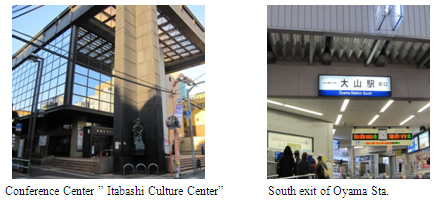 Two big shopping streets, HAPPY ROAD OHYAMA and YOU-ZA OYAMA
There are two big shopping streets around the conference center. In the beginning of February, the welcome flags for ODF'14 set up in these streets.
There are various kinds of shops and restaurants in the streets. We will prepare LUNCH MAP of these streets for the participants of ODF'14. Enjoy a walk around these streets!
Sento (Japanese traditional public bathhouse) "Kinmatsu-yu"
Sento means a public bathhouse in Japanese and it is a part of traditional culture with a long history. There is a Sento named "the Kinmatsu-yu" near the conference center. Kinmatsu-yu is on the way to the Oyama Station from Conference Center.
There are some manners and rules for Sento. Please refer the below website before visiting Sento.
http://www.1010.or.jp/news/foreigners/pamphlet.pdf
For more detailed information, please ask the on-site desk of Itabashi City on the 1st floor of the conference center.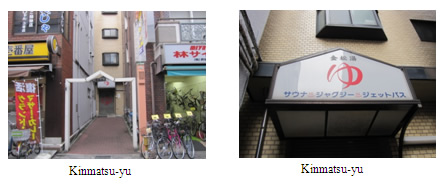 For inquiry about Itabashi City and OMOTENASHI EVENTS
Please ask the on-site desk of Itabashi City on the 1st floor of the conference center.
We are looking forward to seeing you at ODF'14!

OMOTENASHI EVENTS by ITABASHI CITY
We prepare a variety of events for the ODF'14 participants and accompanying persons.
Among them we would like to introduce the following events here. Application is not required for both events.
~Let's watch the moon and Jupiter!~
Astronomical observation

Feb. 13 (Thu.) after sunset
Place: the field of Itabashi 1st Junior high school
Astronomical observation will be held with the telescope of TAKAHASHI SEISAKUSHO which is an optical company in Itabashi. TAKAHASHI SEISAKUSHO is one of the leading companies in the field of astronomical telescopes. You can observe the moon and Jupiter. Please come to the place directly if you participate.
Please join us for the astronomical observation!
<NOTE>
-This event will be cancelled in case of rain or cloudiness.
-Please make sure to protect yourself against cold weather because this is an outdoor activity.
~Let's take a photo wearing Japanese armor!~
Display of Armor "Japanese traditional craft Exhibition"

Feb. 12 (Wed.) – Feb.14 (Fri.)
Place: the foyer on the 1st floor
Japanese armor will be exhibited and you can experience wearing it!
We will offer free photo service and you can have the photo taken in armor and helmet as your souvenir.

Research institution in Itabashi City - RIKEN, Itabashi Branch -
Itabashi opens a future of optics: RIKEN, Itabashi Branch
Birthplace of Japanese physics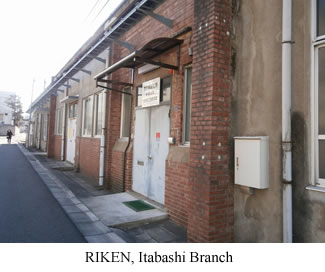 RIKEN is a Japanese governmental institution, whose purpose is to conduct basic and applied researches on the whole field of natural sciences, not on the field of the humanities. Itabashi Branch was opened when the cosmic-ray research group moved there from their place of refuge in Kanazawa City, Ishikawa Prefecture, after World War II. The building of Itabashi Branch was built during the latter part of the Meiji era. Its thick walls in brick and thin roof give an antique appearance, which retains traces of the period of manufacturing of explosives.
"Two physicists, Dr. Hideki Yukawa and Dr. Shinichiro Tomonaga, too, used to observe cosmic rays at Itabashi Branch. It is not too much to say that this is a birthplace of Japanese physicists because both of the scientists who worked at this branch won the Nobel Prize in Physics," said Dr. Hitoshi Ohmori, Chief Scientist at RIKEN.
ELID Technologies and future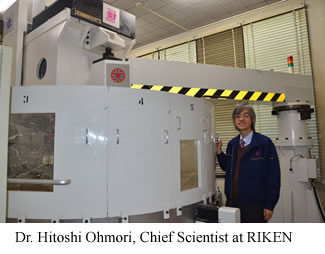 Dr. Ohmori who moved to Itabashi Branch in 1988 has been proceeding with researches. "Electrolytic In-Process Dressing Technologies" developed by him in the preceding year revolutionized mirror-surface grinding processing. "To be brief, it is a technique to polish various materials such as silicon, ceramics, and glass. It is also possible to polish optical components including lenses." The surface of grinding wheel used for the processing is worn away by grinding, but this technology "consists of cycle process allowing dressing of the wheel during the grinding work, which is different from conventional technologies." It also carries the great advantage that "installing an additional device is all that is needed and it is possible to keep using existing equipment if introducing the technology, which results in reducing equipment investment".
They work together with the companies located in Itabashi City these days. "We are also working on applied researches on ELID for medical parts as well as new researches on a system using energy of sunlight focused with a big lens we have developed. We believe that this technology will be able to make a great contribution to a new future for the optical industry, a collaboration between optics and other fields, for example.
Aiming to establish a brand "Itabashi as a city of optics"
RIKEN (Ohmori Materials Fabrication Laboratory) and Itabashi City have concluded a joint research agreement in 2012. Aiming to establish a brand "Itabashi as a city of optics", they have been making steady progress. "The scientists develop technologies and the companies put them to practical use. Itabashi City takes care of coordination and support in the process. I think that optics in Itabashi City will have unlimited potential if the three parties fit well together and function successfully."
Dr. Ohmori is one of the invited speakers of Plenary Session at ODF '14 held in Itabashi City in February.
"I hope that many companies located in Itabashi City will take part in ODF '14. I would really like them to promote Itabashi's optical technologies as well as their own products actively."

Optical company in Itabashi City (3) Takahashi Seisakusho, Ltd.
Pursuing the universe is the way to win in the world: Takahashi Seisakusho, Ltd.
Loved by users around the world because of their reliable technical capabilities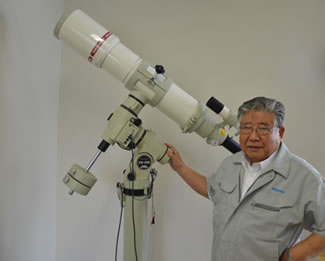 Takahashi Seisakusho, Ltd. has the largest market share in Japan in the field of astronomical telescope for amateur astronomers.
Having the advantage of providing "telescopes which can take clear pictures" and "sturdy products which can be used for many years", the "TAKAHASHI" brand is highly evaluated by amateur astronomers not only in Japan but also overseas. "We produce competitive products with our technical capabilities superior to other companies'," said Mr. Tokio Takahashi, President of Takahashi Seisakusho, Ltd. He talked with a calm tone but seemed to have unshakable confidence in their technology.
A factory where products are actually produced is located in Yorii Town, Saitama Prefecture, and about 50 employees work there. They give importance to manual dexterity for this job and delicate work is required. That is why they used to adopt origami as an employment test in the past.
"We have been coping with the innovation in technology and producing the products which meet needs of the times, which results in high evaluation from customers. In order to continue this situation, I really hope that our employees are always engaged in their job with a spirit of inquiry, realizing that they deliver their products to the world."
Gaining trust by selling reassurance
They deal with design, development, production and distribution by themselves with an integrated system. They are originally a venture company which unparalleled astronomical lovers started together. "The members who got together had various experiences and skills, and we had experience in producing iron casting. That is why we were able to establish business operations with an integrated system. We can offer our products with confidence and responsibility because we are able to complete every step by ourselves." Sometimes they receive a request for fixing a product which was sold 30 years ago. "We do not think that «selling is an end», but the relationship with our customers just starts from that point," said Mr. Takahashi. They sell not only "products" but also "reassurance", which results in establishing a trust relationship with their customers.
Aiming for the top of the world with a spirit of inquiry
They won the highest award of Itabashi Technological Prize in 2011.
"Our astronomical telescopes are for amateur astronomers rather than for the general market, so, to tell the truth, we were very surprised at winning the prize," said Mr. Takahashi. On the other hand, he also said with strong enthusiasm and confidence, "We would really like scientists from foreign countries to see our products, a Japanese top brand, at ODF '14 held in Itabashi City." Their slogan is "Pursuing the universe is the way to win in the world". They will naturally lead their field as a leading company in the world by producing a product to see throughout the universe. They always aim for the top of the world with an insatiable spirit of inquiry.

Optical company in Itabashi City (2) Yucaly Optical Laboratory, Inc.
Playing an active part as a force behind the scenes: Yucaly Optical Laboratory, Inc.
World number one in the field into which large companies do not enter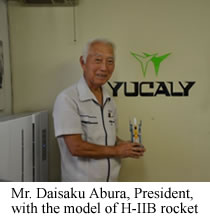 The origin of the name of Yucaly Optical Laboratory, Inc. ("Yucaly Optical") is eucalyptus which grows very quickly and survives even in harsh environment. With their unique technology, they have the biggest market share in the field of MTF measuring equipment for infrared lens though they are a small company with four employees. The MTF measuring equipment for infrared lens measures the performance of infrared lens with MTF. "We work with all the optical systems (ultraviolet, visible, infrared), and in particular, we are second to none in the field of MTF measuring equipment for infrared lens. We are able to deal with everything in this field," Mr. Daisaku Abura, President at Yucaly Optical said, expressing full confidence in their own products.
"Large companies do not enter into the field whose prediction market is small. We are strong in such a small field." They find something required in the small field and specialize in it. They are capable of doing so, and perhaps it is because they are a small company.
From Itabashi to space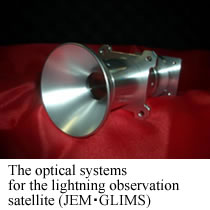 Yucaly Optical was entrusted with the development, design, assembly, etc., of the optical systems for the lightning observation satellite (JEM GLIMS) which Osaka University, Hokkaido University, Tohoku University and others developed collaboratively with Japan Aerospace Exploration Agency (JAXA). This lightning observation satellite was sent to the International Space Station by "H-IIB rocket" in July, 2012 and installed on the Exposed Facility of "Kibo", Japanese Experiment Module, by astronauts. It obtained the first observation data in history there.
"We gave importance to producing the best products within the limited time and budget. At our company with four employees, we stand talking as a meeting and do not need much time to make a final decision. We have the advantage of being agile. Of course we are confident that we are number one in development and design of the optical systems."
Ability to design based on solid experience
Yucaly Optical which is entrusted with development by large companies and others is engaged in the development, design and assembly of products and outsources the processing of parts to small companies in Itabashi City. "When it comes to «manufacturing», people tend to give attention to processing, but design is most important. If design is not good, you will not be able to obtain a good product regardless of how good the subsequent processing may be. Designers need to have knowledge and experience regarding the whole production process," Mr. Abura said, emphasizing importance of design.
"We are planning to join ODF which will be held in Itabashi City in 2014, and would like to let the scientists and engineers in and outside Japan know that Itabashi has cutting-edge optical technology," he said enthusiastically.
Yucaly Optical is a small company but takes advantage of it and plays an active part. They will keep on contributing to development of optical technology as a force behind the scenes.


Optical company in Itabashi City (1) TOPCON CORPORATION
Global company born in Itabashi: TOPCON CORPORATION
Optics is promising all through the ages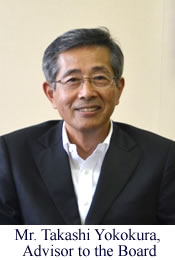 "The optical technology has enormous potentialities. Optics is always an advanced technology all through the ages, so we have no fears for the future," Mr. Takashi Yokokura, Advisor to the Board at Topcon Corporation, said with certainty.
Topcon Corporation ("Topcon") is one of the three leading surveying instruments makers in the world. Also, they are one of the two leading companies with dominant global market share in the automated construction field in which high-precision GPS technology is applied to the construction and agriculture industries, and a top brand as one of the three leading makers of ophthalmic and medical instruments in the world.
"We always launch new products and services onto the market before competitors. That is characteristic of our company."
Mr. Yokokura himself experienced in producing a revolutionary rotary encoder, digital angle-measuring equipment which had been analog previously, when he worked as an engineer.
Teamwork for seeking a new thing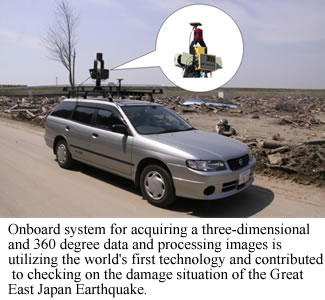 It is their employees called "Topcon family" who share and perform their mission of "seeking a new thing and working on it". Today, 2,500 out of about 4,000 employees work overseas at Topcon which operates their business worldwide. Mr. Yokokura calls them "overseas associates". They place importance on sharing of information as well as positive energy and teamwork created from there. "A chemical reaction occurs at Topcon. That's great," his friend who works for the other company said to him. Probably, the company gives the impression that there is a spirit of creating new technologies and products by stimulating each other.
To demonstrate at ODF that "Itabashi is the center of optics"
Topcon operates a wide range of business globally, but its core remains unchanged. "Optics is still the core of our business, and we will not change regarding that point." Also, they have a special feeling for Itabashi City, their hometown. "Itabashi has a history in the optical field, so the related information is accumulated there. In addition, there is intra-industry specialization in this field. There are still many companies related to the field. We intend to continue to do our business in Itabashi placing importance on our relationships with them."
"We would really like ODF visitors to strongly recognize that Itabashi is the center of optics," Mr. Yokokura said with enthusiasm.
The top brand born in Itabashi does not stay in the already established position but still keeps going ahead.


The history of optical industry in Itabashi City
Itabashi City is one of the leading industrial wards in Tokyo. In particular, the optical industry has been occupying a large part in the history of its development. That started when Itabashi City was established in 1932. Starting operation in Hasunuma-cho, Tokyo Optical Co., Ltd (currently known as TOPCON CORPORATION) was mainly engaged in manufacturing binoculars, cameras and surveying instruments at that time. After that, they focused on manufacturing optical weapons for Japanese army and had a large factory with about 7,000 employees at their peak in 1942.
Relatively, Itabashi City did not suffer serious damage from war, and its industry recovered quickly. As a result, many workers and subcontractor's factories with superior skills became independent and the optical industry based on binoculars grew vigorously.
In the optical industry, manufacturing process consists of specialized areas such as production, assembly and adjustment of parts including lenses, prisms and bodies, and those areas are independent of each other but work together to manufacture one product. Itabashi City had a great advantage that the factories responsible for each of the specialized areas of manufacturing process were located near each other so that the optical industry could grow as a local industry.
After that, manufacturing of optical products such as binoculars and cameras was put under pressure as a result of price competition intensified by the increased production in the developing countries, the widespread use of compact cameras, etc., and the number of the companies engaged in the optical industry has decreased compared to before. Experiencing these changes, the optical industry in Itabashi City has been shifting to the fields with higher added-value. They produce new products such as precision instruments for medical use, surveying instruments, and products related to image and information processing, to which the advanced optical technology is applied.

General information about Itabashi City
Itabashi City is one of Tokyo's 23 special wards, created in order to distribute efficiently the management force of Japan's capital city, thus allocating power to the local administration in charge of welfare, education and other public schemes. It is located in the northwestern part of Tokyo 23-ward area and borders City of Kita, Toshima City and Nerima City. It covers an area of 32.17 square kilometers, making it the 9th largest among the 23 wards. As of December 1st, 2013, it has a population of 540,127.
Seasons of Itabashi City - From the pictures on the right -
Spring ...
Scene of Itabashi Bridge which is the originof the place-name of "Itabashi" and cherry blossoms.
Summer...
Fireworks display in which more than 10,000 fireworks are shot off every year.
Autumn...
The biggest festival in Itabashi City, held in October.
Mikoshi (a portable shrine) is carried, Awa-Odori (folkdance) is performed, etc.
Winter...
"Ta-asobi", a ritual which has been held for a thousand years to pray for a rich harvest and future prosperity.
* Those pictures are also posted on the top page of ODF Website.

Message from the mayor of Itabashi City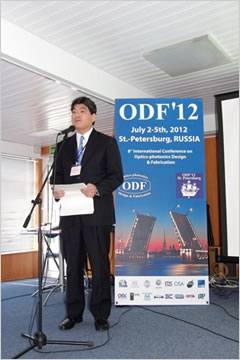 I am pleased to welcome you to ODF'14 in Itabashi City, Tokyo.

Itabashi is one of Tokyo's 23 wards. We are a municipality with over half-million residents and land area of32 square kilometers.
Itabashi is a leading center of industry with many small to medium-sized businesses, but our optics industry has an especially long history. At its peak in the 1960's, 70 percent of the optical products exported from Japan came from Itabashi.
Because of changes in the environment since then, many production centers have moved to provincial areas or overseas, but there are still many optical industry firms with headquarters or research and development centers here.

The optical technology in Itabashi has been developed by such firms based on their technologies of binocular and single-lens reflex camera. And now their technologies are applied to the various fields like medicine and sensors. New industrial vitality always continues to be created in our city.

Now Itabashi City is working hard in preparation to receive all our guests with the most thoughtful hospitality, which we call the "Omotenashi" Spirit. We cannot provide lavish amusements, but we promise our sincere and careful attention.
I look forward to seeing you at ODF'14.
Takeshi Sakamoto
Mayor of Itabashi City, Tokyo
Introduction Video about Optical Industry of Itabashi City
Tradition leads to Innovation
~Optical and Precision Machinery Industry of Itabashi City~
http://www.youtube.com/watch?v=U_J4tb1C8gI